Electric arc furnace steelmaking: main technological processes and development trends
Views:15 Author:Site Editor Publish Time: 2020-12-07 Origin:Site
Electric arc furnace steelmaking is the main method for producing medium-high alloy steel and high-quality steel.
In energy and resources, more waste and cheap industrialized areas, electric arc furnaces produce ordinary carbon steel, which has accounted for market share growth.
With the development of my country's industry and technology, the demand for alloy steel and high-quality steel is continuously increasing. By the end of the 1980s, electric arc furnace steel accounted for about 30% of the world's total annual crude steel output.
Electric furnace steelmaking method Electric furnace steelmaking method mainly uses arc heat, and the temperature in the arc action zone is as high as 4000℃. The smelting production process can generally be divided into a melting period, an oxidation period and a reduction period. The furnace can not only develop and affect the oxidizing atmosphere, but also create a reducing atmosphere, so the efficiency of dephosphorization and desulfurization is very high. Next, the steelmaking electric arc furnace manufacturer will conduct a detailed data analysis for everyone. What are the characteristics of electric arc furnace steelmaking?
Electric furnace steelmaking using scrap steel as raw material requires less capital investment. At the same time, due to the development of direct reduction, the electric furnace is provided with metalized pellets to replace most of the scrap steel, thus greatly promoting the electric furnace steelmaking. There are about 1,400 large-scale electric furnaces in the world. At present, electric furnaces are developing to large-scale, ultra-high power, and electronic computer automatic control. The maximum electric furnace capacity is 400t.
Almost all foreign electric furnaces over 150t are used for smelting ordinary steel. In many countries, 60-80% of electric furnace steel output is low-carbon steel. Due to insufficient power and scrap steel in my country, it is currently mainly used for smelting high-quality steel and alloy steel.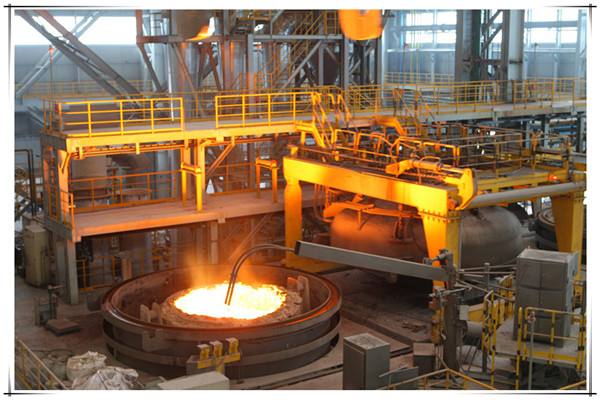 Generally referred to as EAF steel is steel produced during smelting in an alkaline electric arc furnace. Arc steel is used to produce high-quality carbon structural steel, tool steel and alloy steel. This type of steel has excellent quality and uniform performance. At the same carbon content, strength and ductility are better than steel open hearth steel.
Electric furnace steel uses similar steel scrap as the main raw material, and the comprehensive utilization technology of metallurgical dust and mud can also use sponge iron to replace part of the scrap. Through China's addition of ferroalloys, the chemical composition and alloying element content can be adjusted and studied.